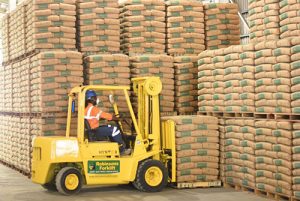 Three months after Caribbean Cement Company Limited announced its 2020 record cement production results, the company is marking another milestone, that of manufacturing more than 100,000 metric tonnes of cement in a month. This was accomplished in March and marks the highest monthly production in recent history.
"While we have been making investments to improve our performance, a key component in this result is the human factor. This is really a mark of the commitment of our people who have been working consistently to keep our plant operating optimally, and best of all, we have achieved this safely, without any lost time injuries," said Yago Castro, managing director of Carib Cement.
The trend for this quarter is of a higher average than that of the past ten years and is in response to domestic market demand. Round the clock, the cadre of highly skilled employees maintain equipment, conduct quality checks and keep a close eye on all aspects of the operation to quickly resolve issues and shorten down time. Investments in the business over the past five years have begun to yield favourable results.
Carib Cement, the largest manufacturer in Jamaica, is essential to the economy not only for its product, but for the ecosystem around the company's operations. The company is serviced by more than 450 local suppliers and made 70% if its purchases locally in 2020. Between 2015 – 2020, the government of Jamaica has received tax revenue of 49.5 billion.
"The challenges presented by the COVID-19 pandemic demonstrate once again the importance of strong local manufacturing sector, and especially for an essential commodity like cement. While CEMEX has devoted a lot of resources to Jamaica, Carib Cement's results are really a Jamaican success story. The government's policies and the passion of the employees ensure that the dreams, hopes and development plans of the Jamaican people and institutions are realised," Mr Castro said.