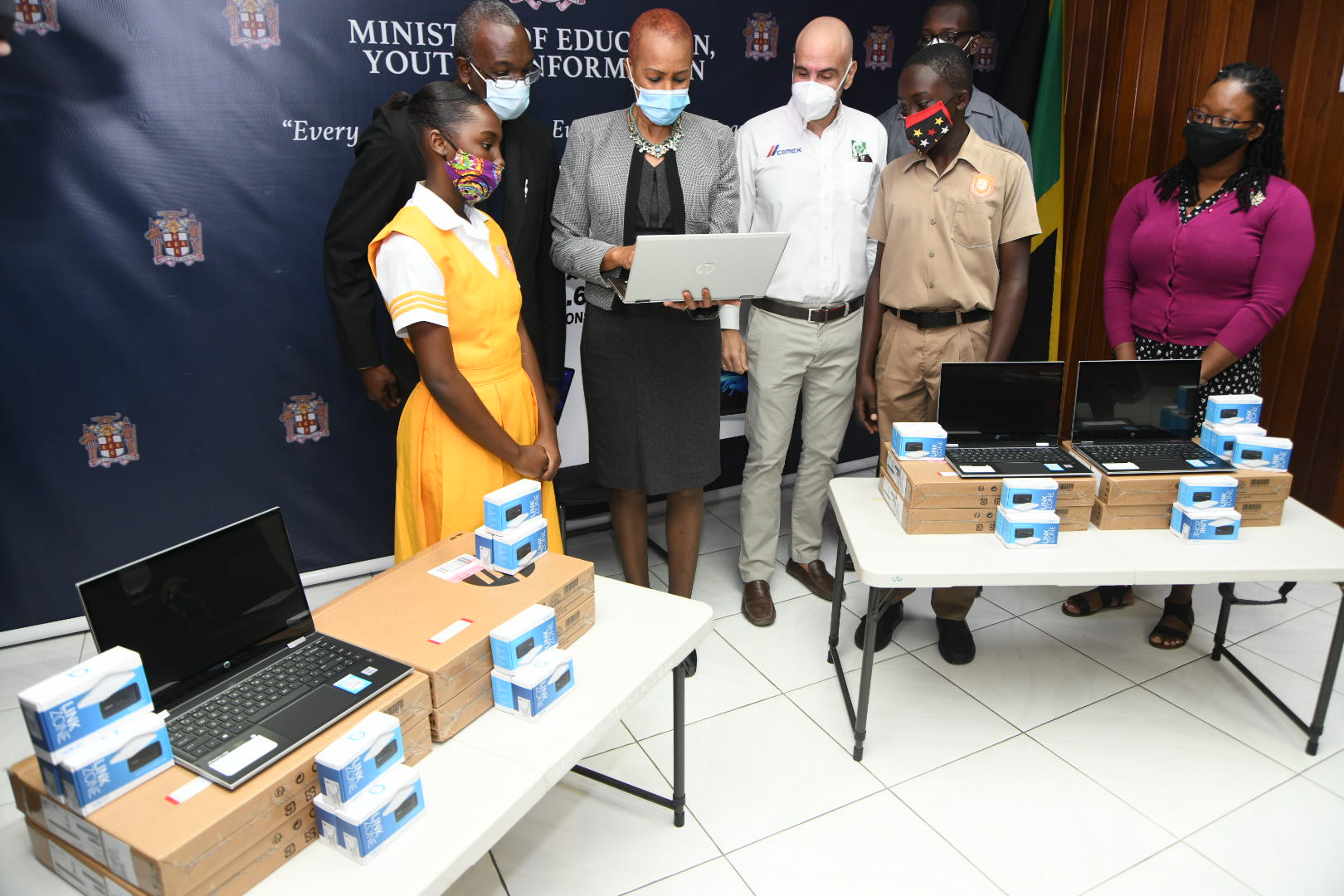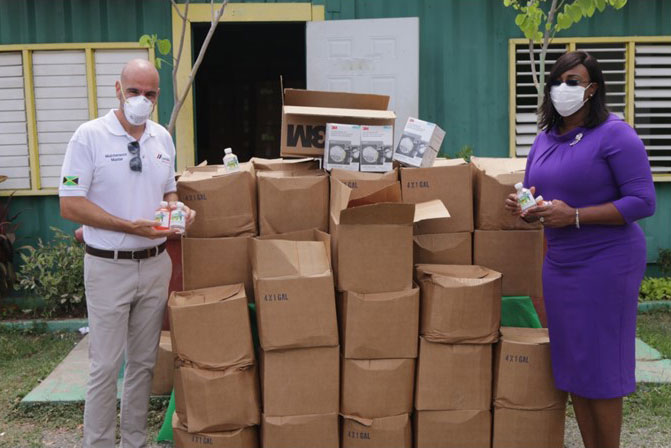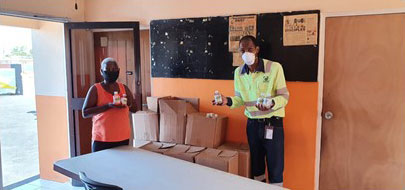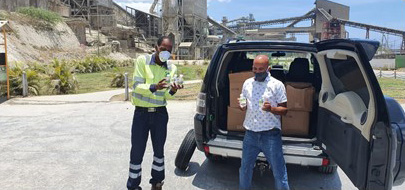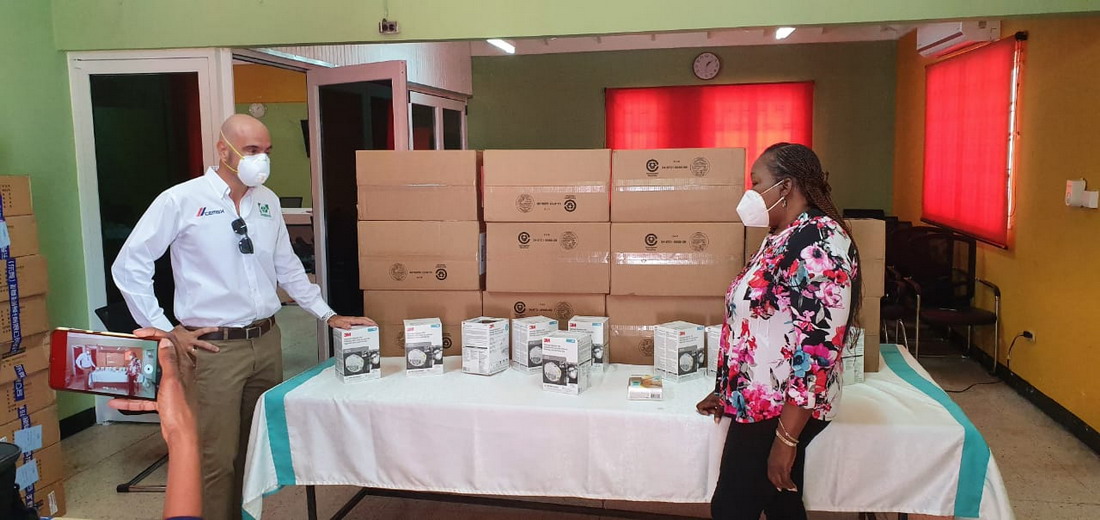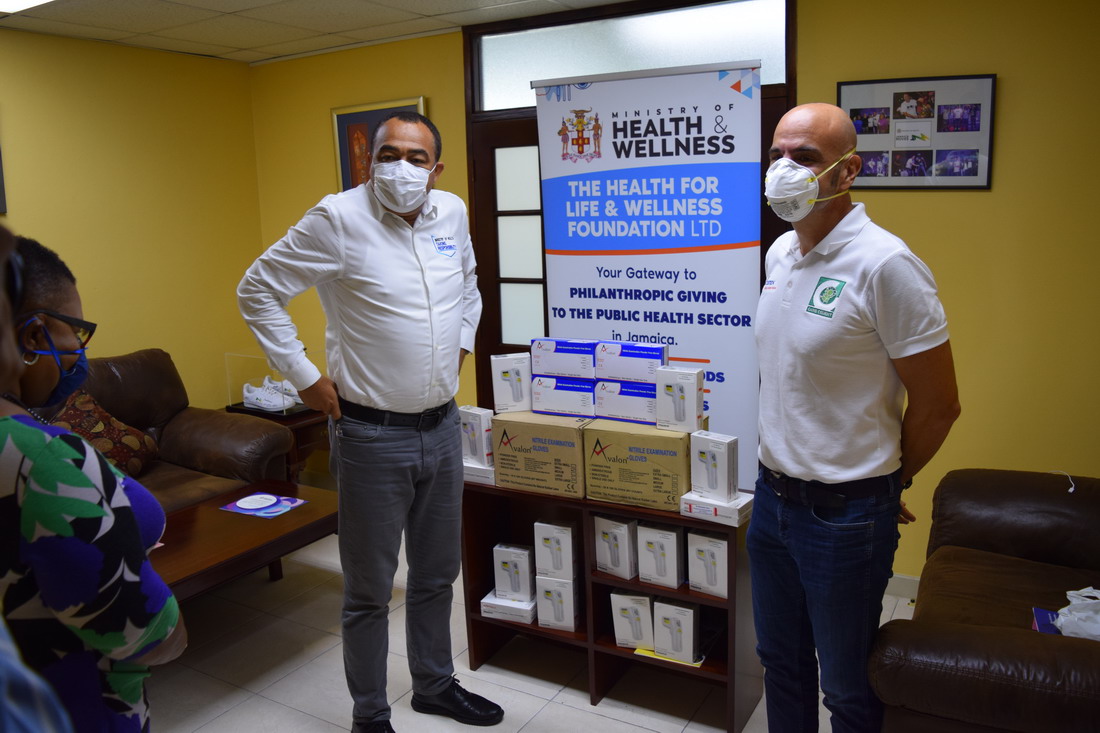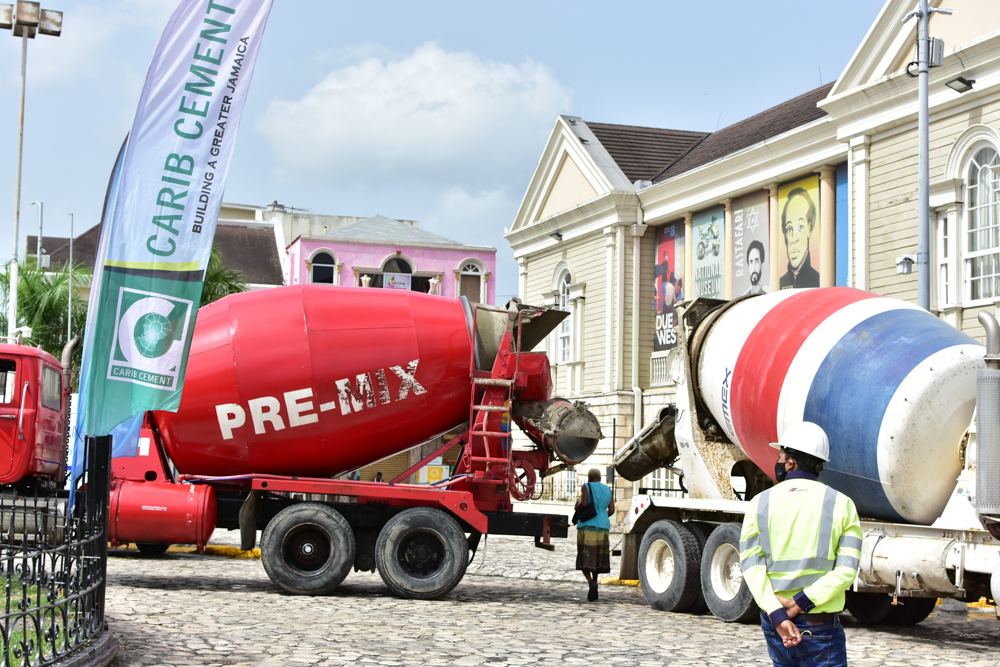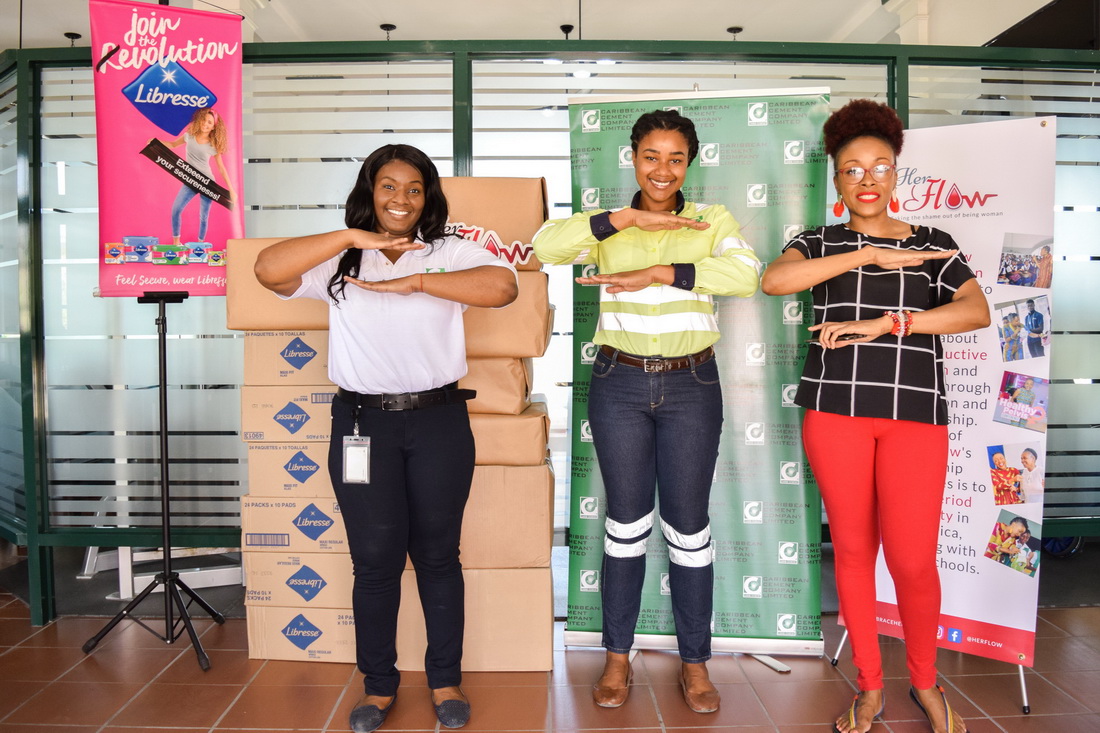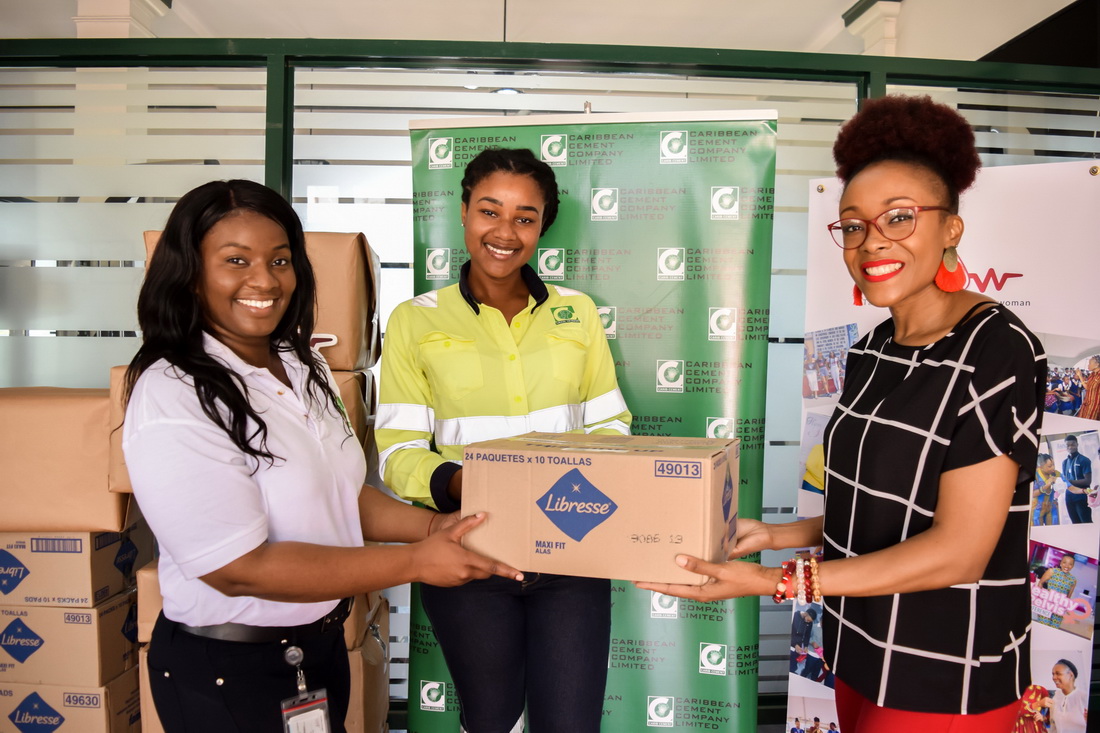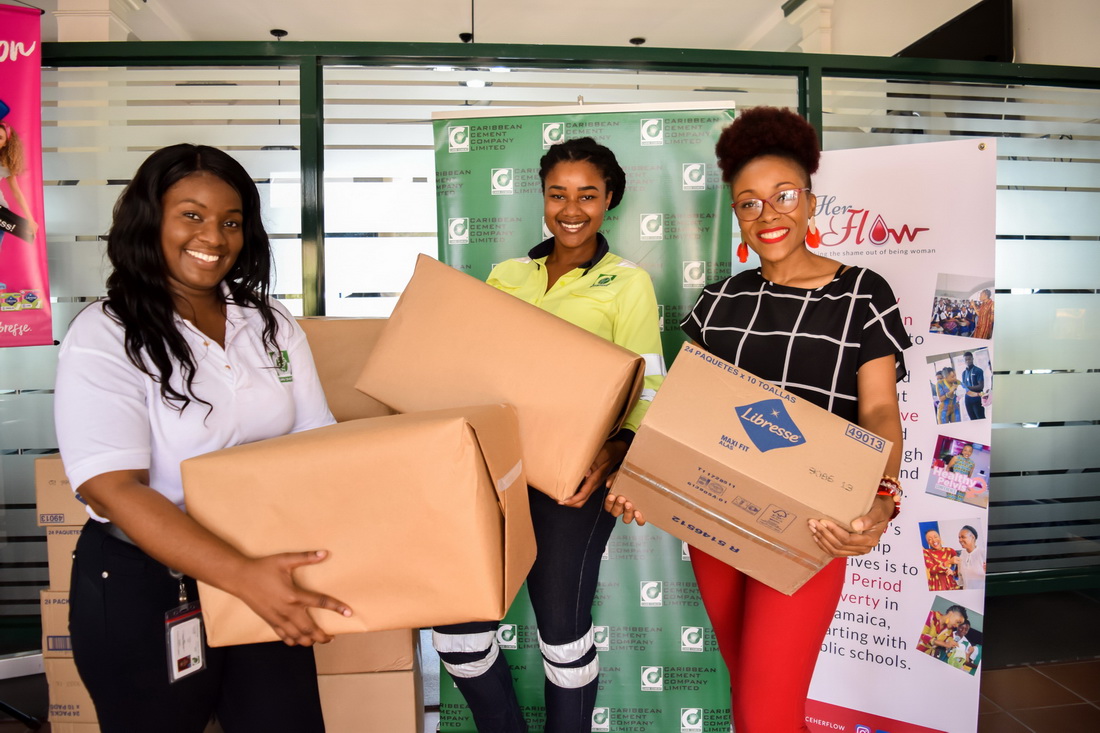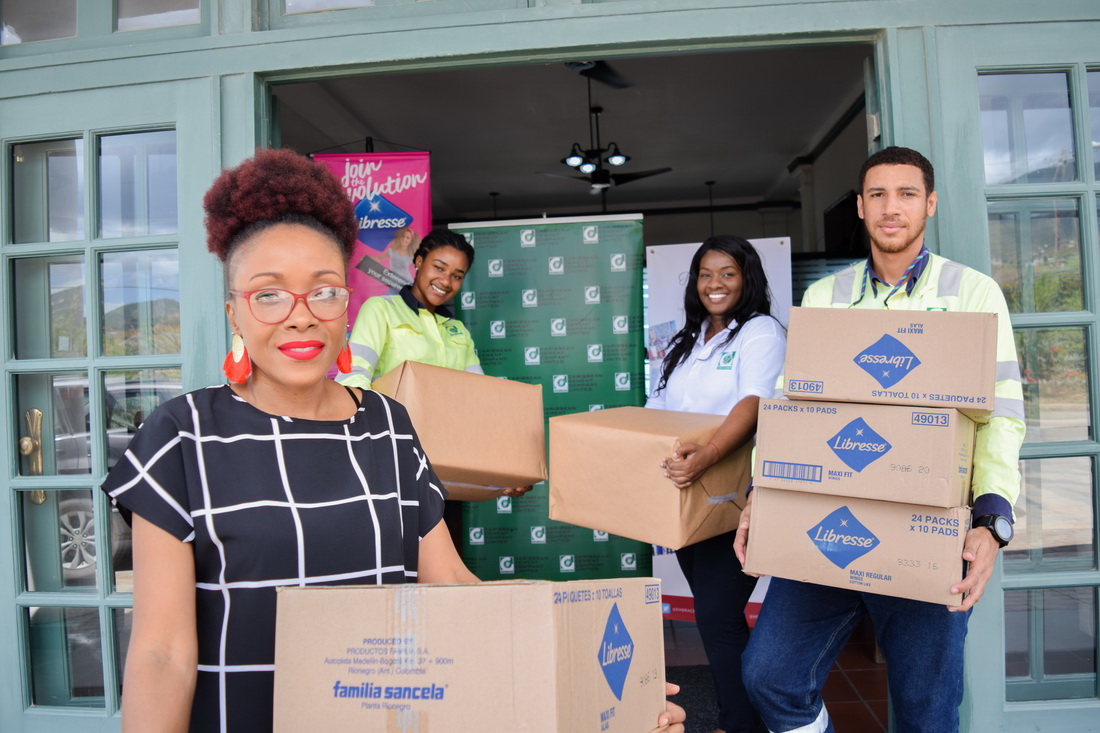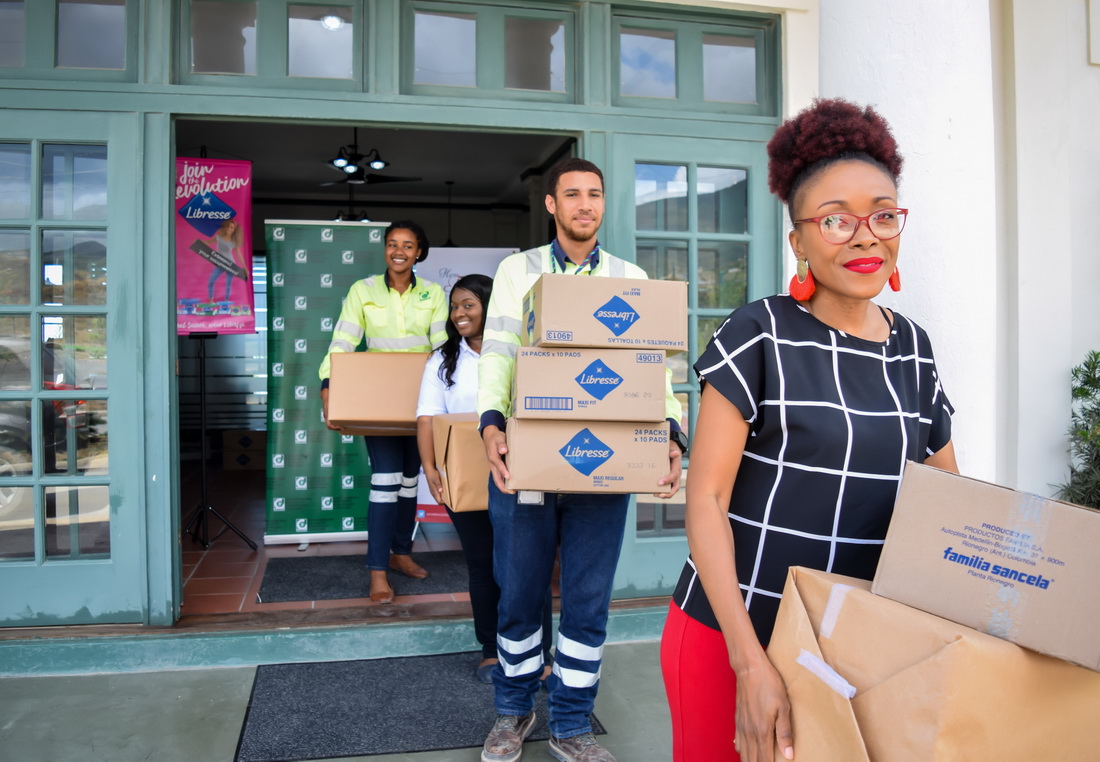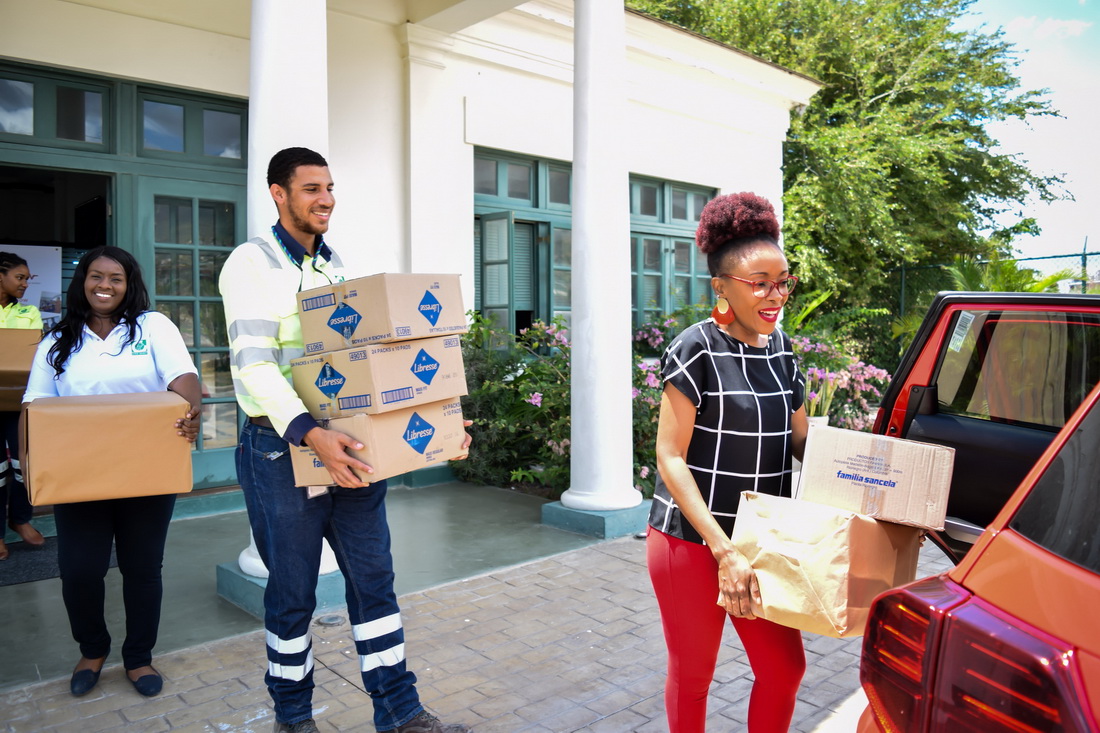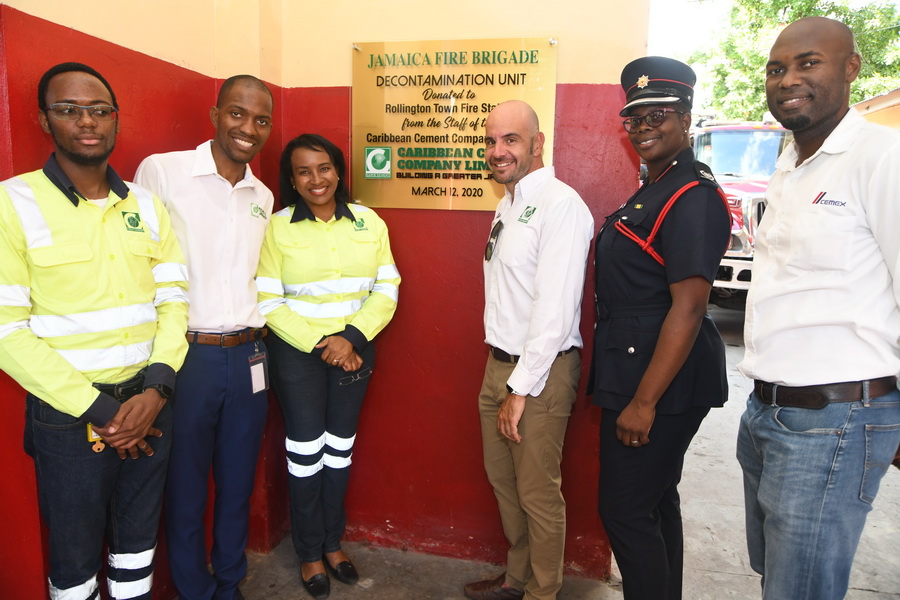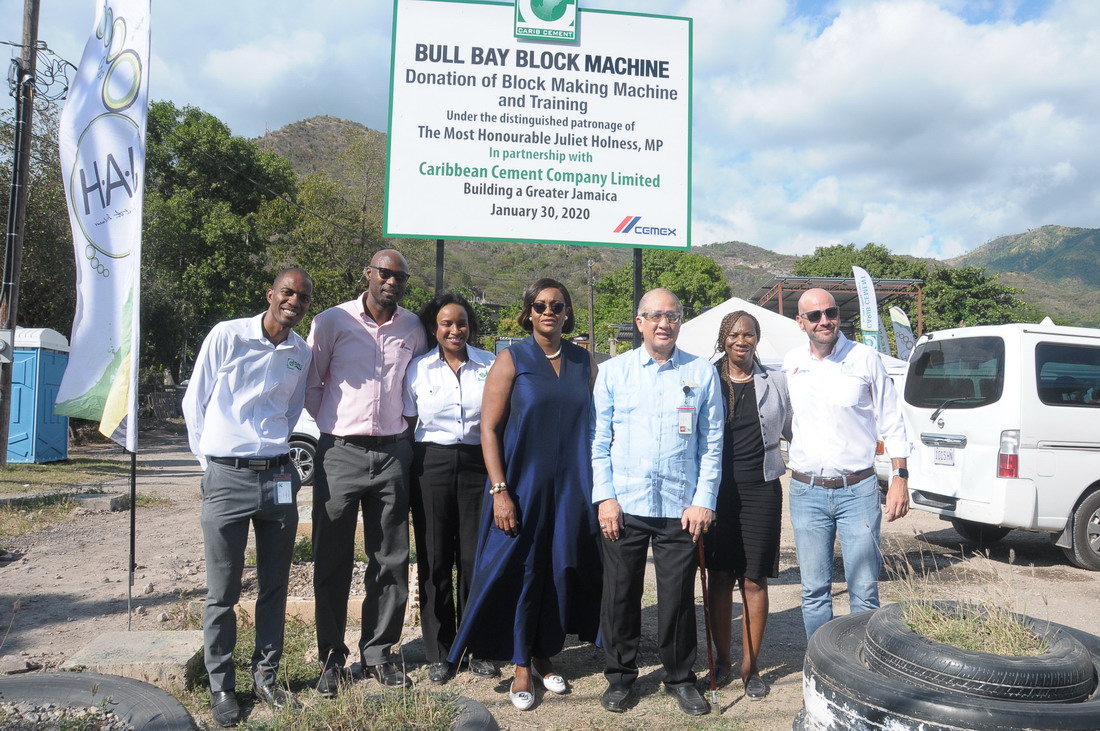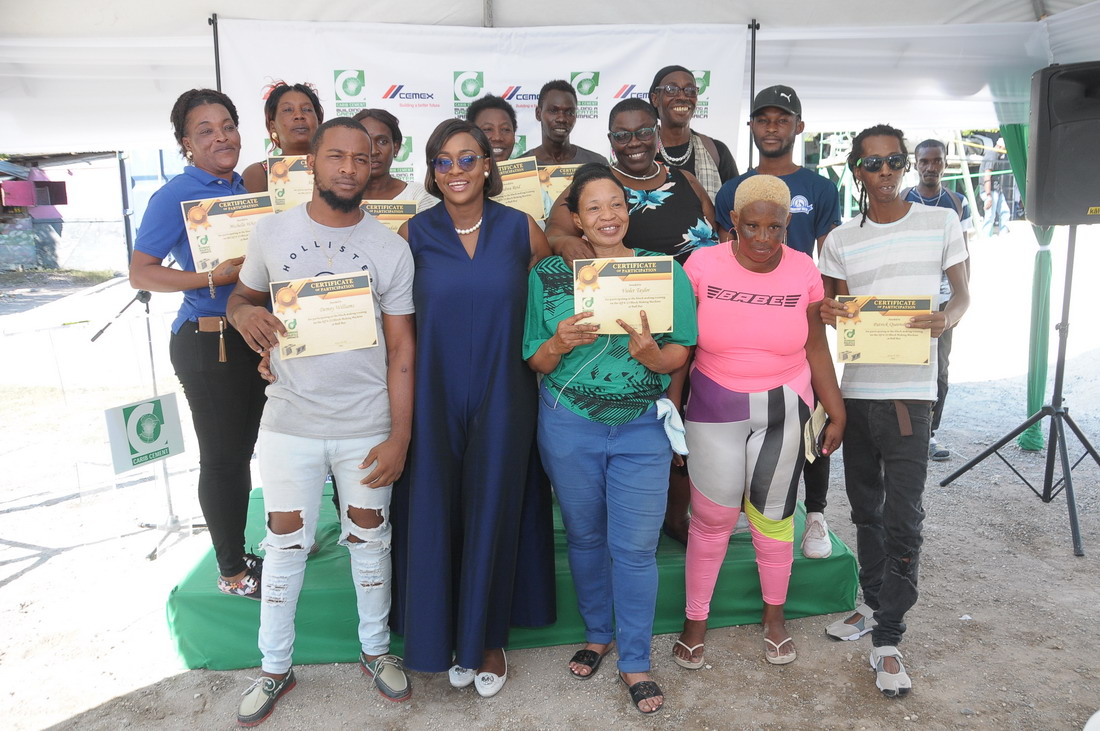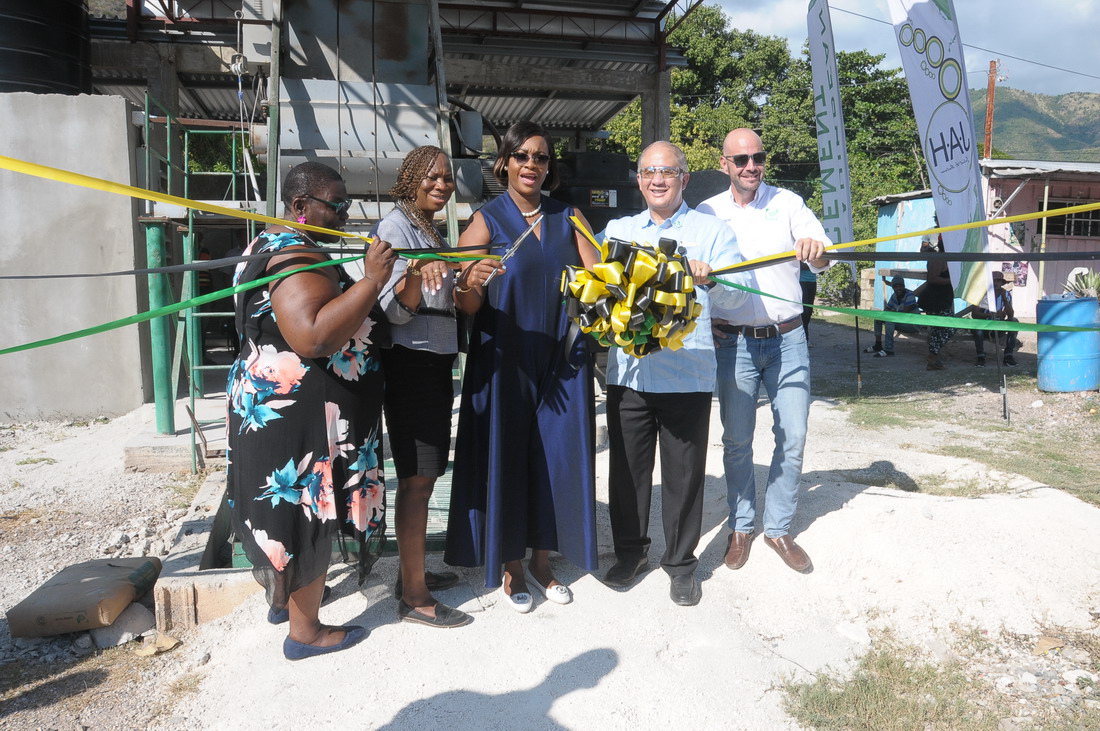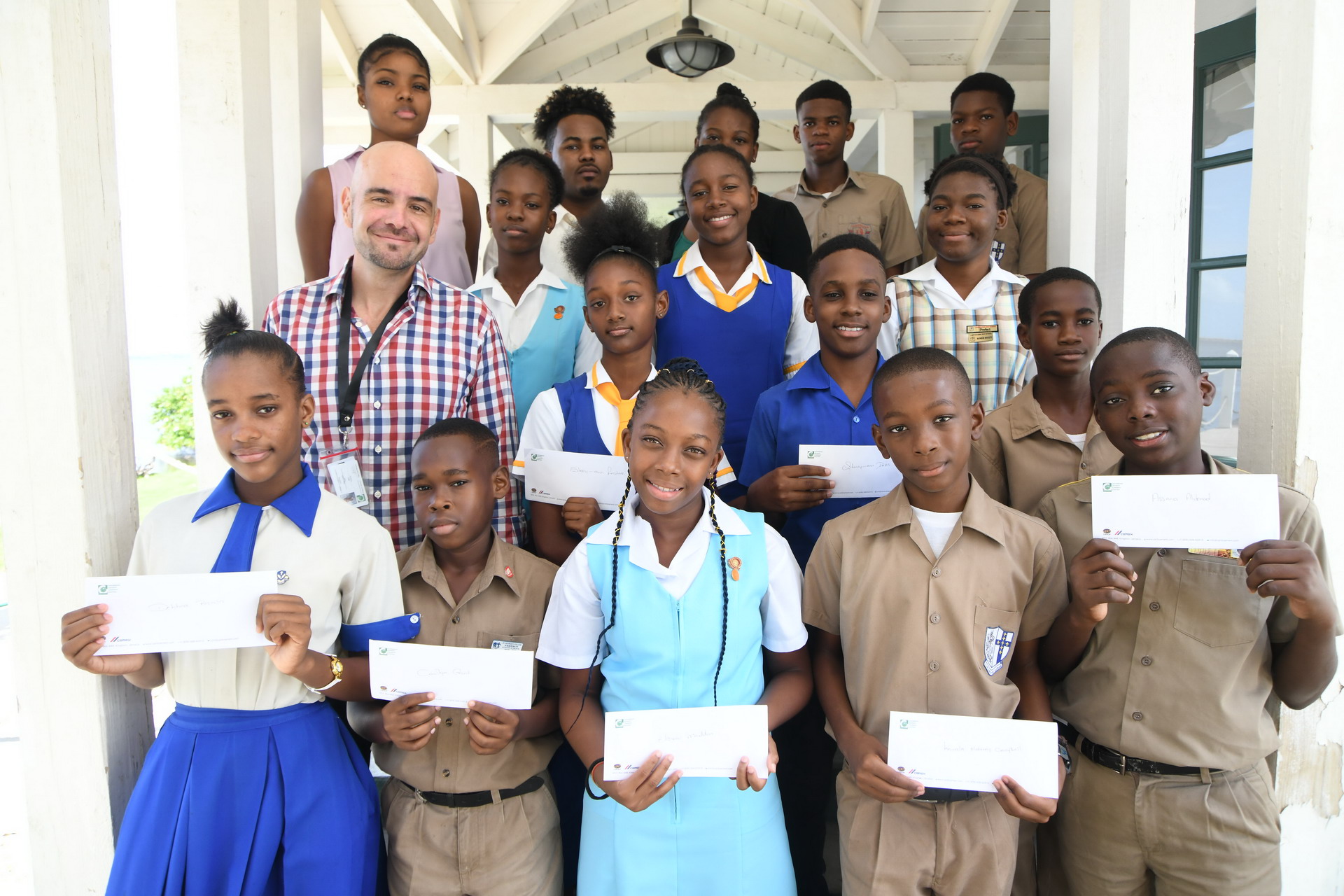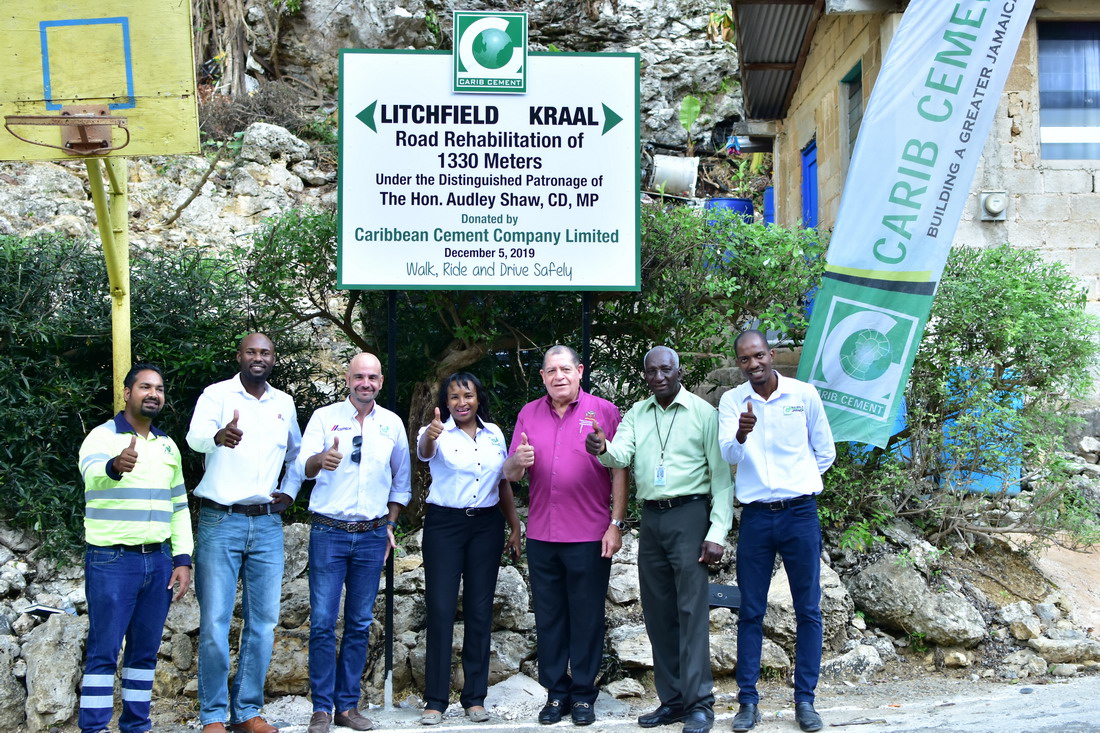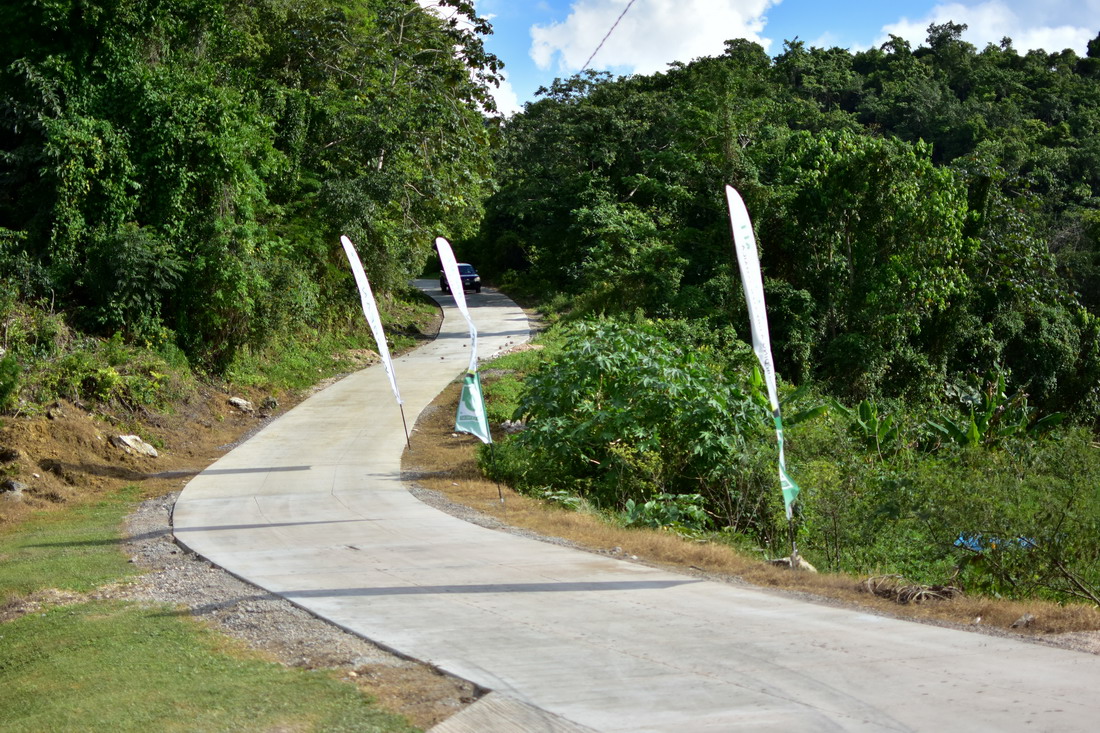 Caribbean Cement Company donates concrete road to Kraal, Manchester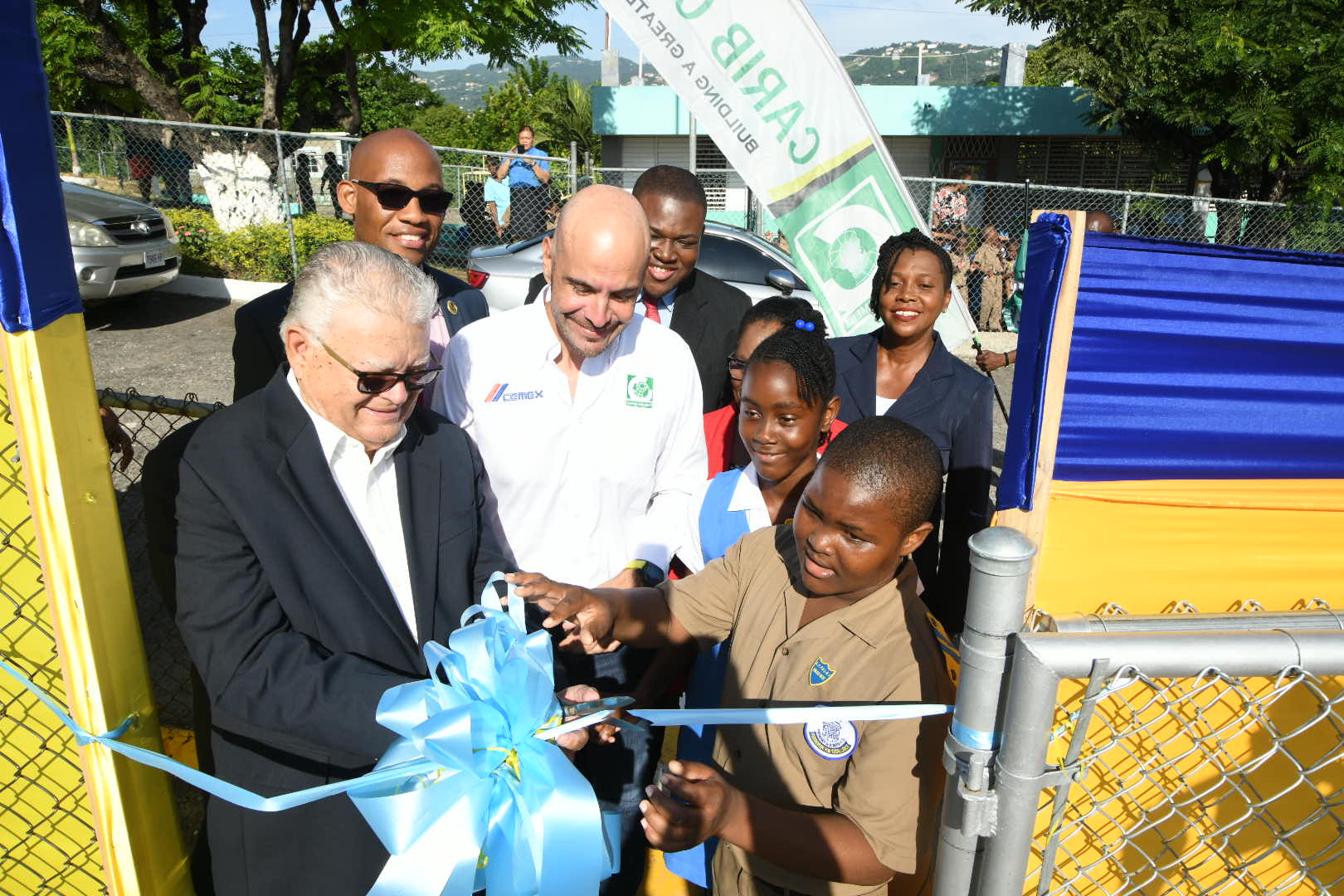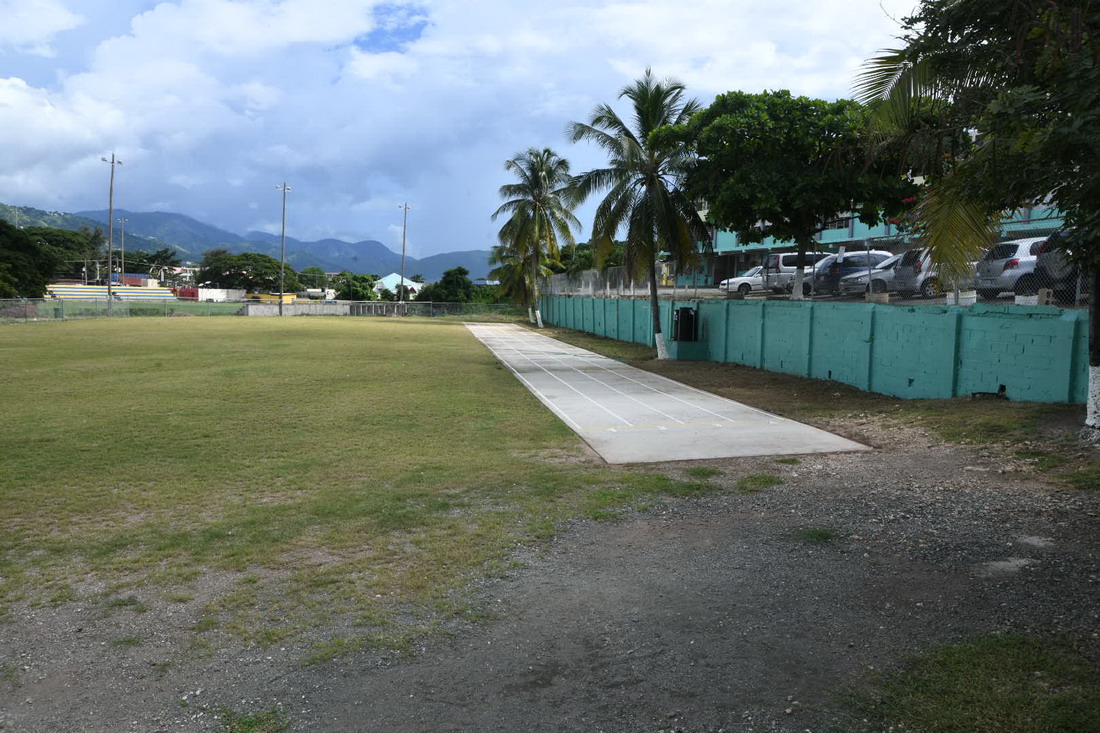 Carib Cement partners with government stakeholders to address problem of used tyres at the Riverton Landfill
Remarks:
At Carib Cement, we believe that building a Greater Jamaica is more than a tag line. It is the reason more than 500 men and women come to work at our plant every day.
We believe that building a greater Jamaica for our Employees, Customers, Shareholders, Communities and the Country go hand in hand with building a sustainable and profitable company.
Today is another demonstration of our commitment to building a greater Jamaica.
Minister Vaz and I began dialogue on this issue over a year ago after one of the fires at Riverton. We immediately began to look for the best way to partner with the Country and become part of the solution.
Our team at Carib Cement looked at the possibility of using shredded tyres, but the high cost involved in the shredding process, and transportation made it unfeasible.
We then analyzed the possibility of using whole tyres, but this created other issues, such as: the cost of making adjustments to our kiln process, the significant initial investment in our facilities and the much higher operating costs associated with the burning of the tyres. However, we continued work on scenarios until we found a potentially viable one.
The approach we have settled on is not one that is economically profitable to us, however there is greater benefit in its potential to be a long term solution for disposing of tyres dumped at the Riverton Landfill. We have the capacity to help with this problem and the bottom line for us is that it is part of our social responsibility to assist.
Today, after more than one year of working with the GoJ on the planning stage, we are ready to move on to the execution stage. We are pleased to be here to cement our commitment, and to start an industrial trial which, if proven successful, will see Carib Cement significantly reducing tyres in Riverton landfill in about 5 years.
We are committed to the success of this project because it is good for the environment and the health and safety of Jamaicans. This partnership has the potential to be another example of joint solutions between government and private sector.
Our parent company CEMEX, is currently the worldwide leader in alternative fuels usage for cement production. Increasing alternative fuels is an essential piece of our long term sustainability strategy.
CEMEX's strong commitment is to migrate to cleaner energy sources and to displace tra­ditional fossil fuels like coal with low or even zero-carbon alternatives —such as municipal solid waste, tires, and biomass residues.
By this project, our Jamaica's could be held up as an example, as are CEMEX operations in Poland, Latvia, Czech Republic or Germany, where successful partnerships resulted in the conversion of more than 900,000 tonnes of solid waste in 2017.
In 2017, globally 26.2 per cent of the fuels used by the CEMEX group was from alternative sources. Here in Jamaica, at Carib Cement we currently use around 4 per cent alternative fuel in our process. Our goal is to increase this number in the coming years.
I want to end by describing a little bit of the process. The tyres will be burnt in our kiln at 1,400 degrees Celsius. There is a huge difference for the environment when tyres are burned at 1,400 degrees in a kiln, than in an incinerator at 600 degrees. In an incinerator, it would produce toxic gases, but at 1,400 degrees in our kiln, it won't; and the ashes will be incorporated within our process, just as fuels we use.
I want to thank our team at Carib Cement and our partners at the various agencies for getting us to this point. We will do our best to overcome any hurdle which presents itself along the way so that this can be an enduring solution for the people of Jamaica.
Thank you.
*Statement delivered on July 22 by Peter Donkersloot General Manager on the occasion of the signing of the Memorandum of Understanding with the Ministry of Local Government and Community Development; Ministry of Economic Growth and Job Creation and National Solid Waste Management Authority for the Pilot Project to dispose of used tyres.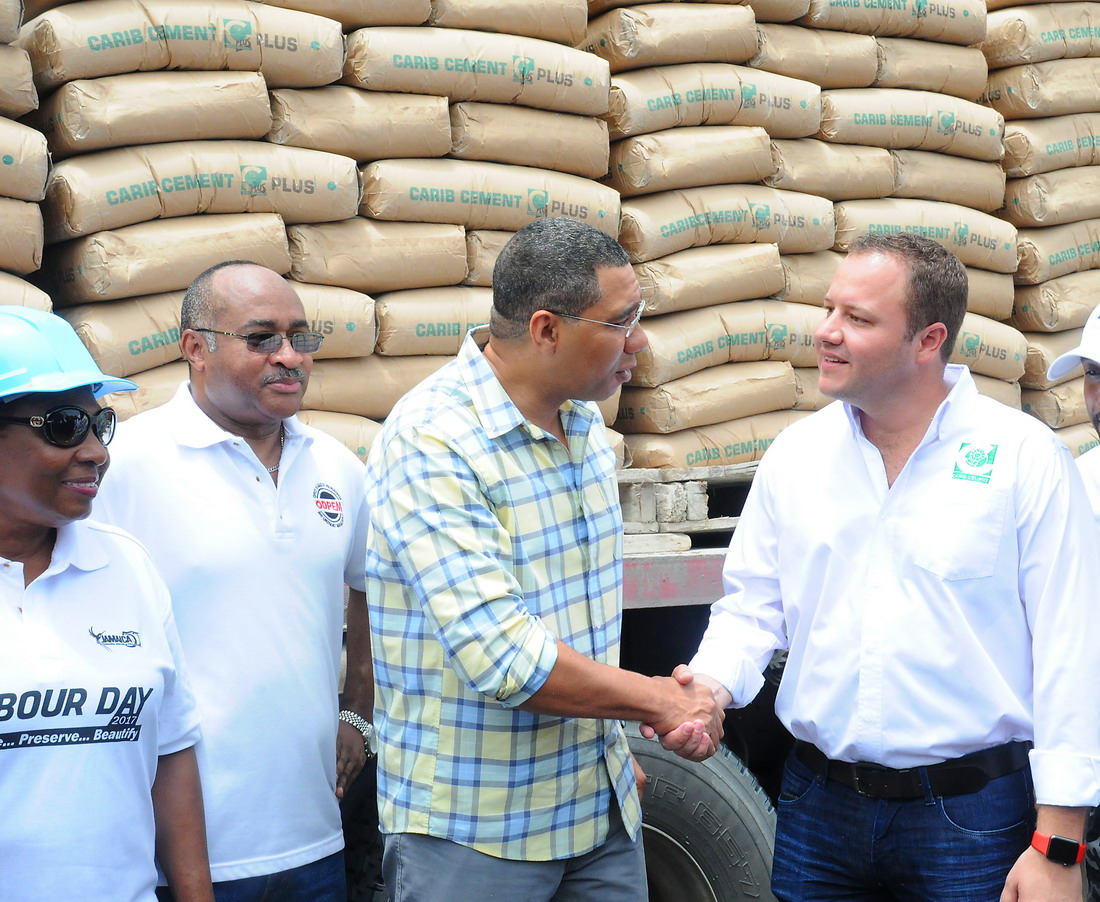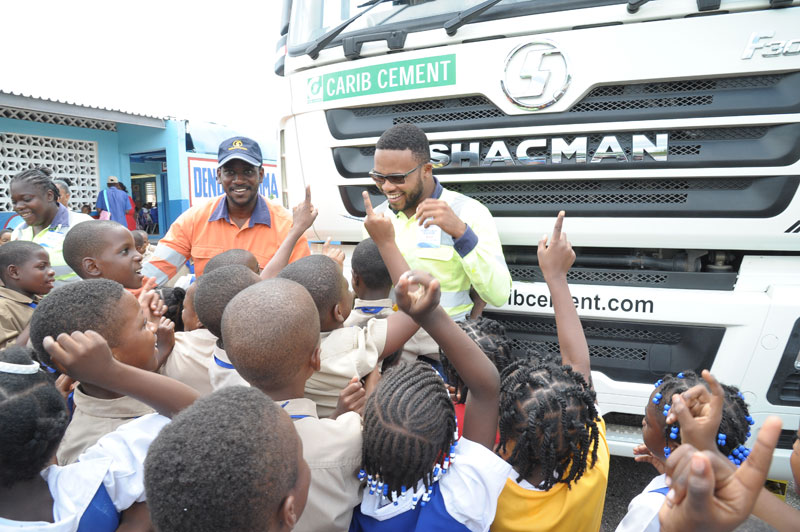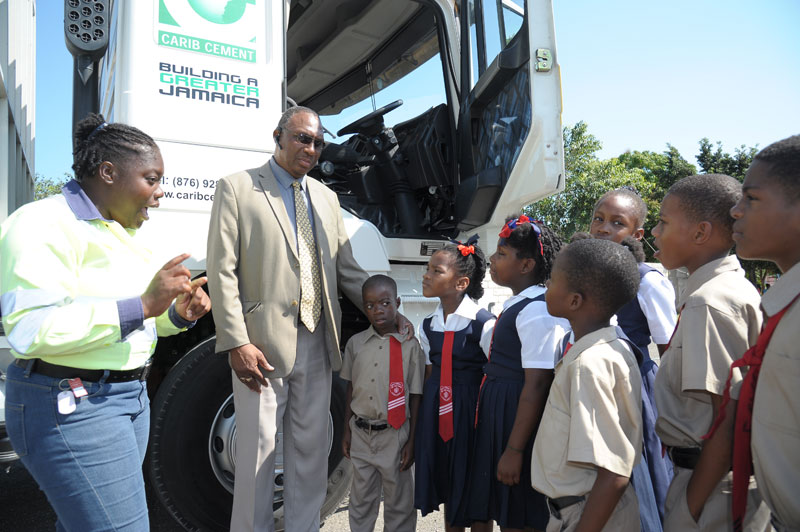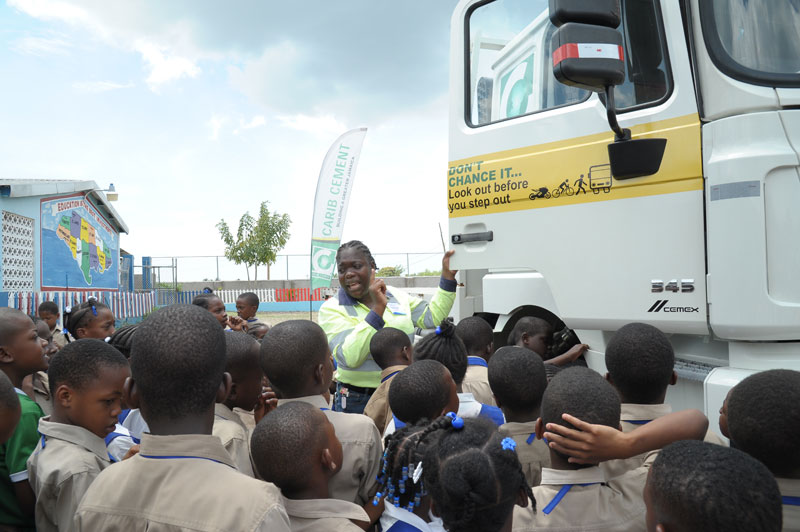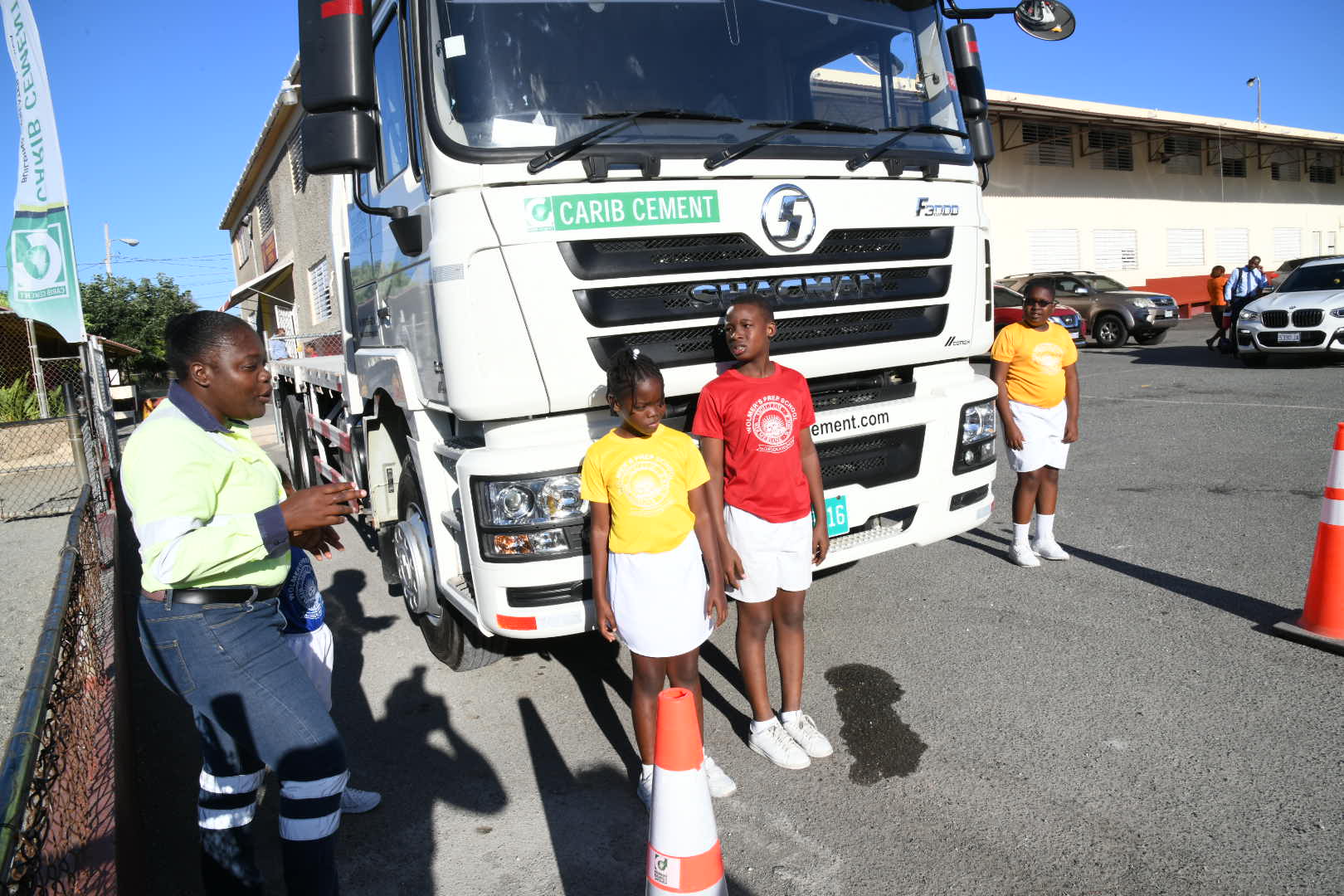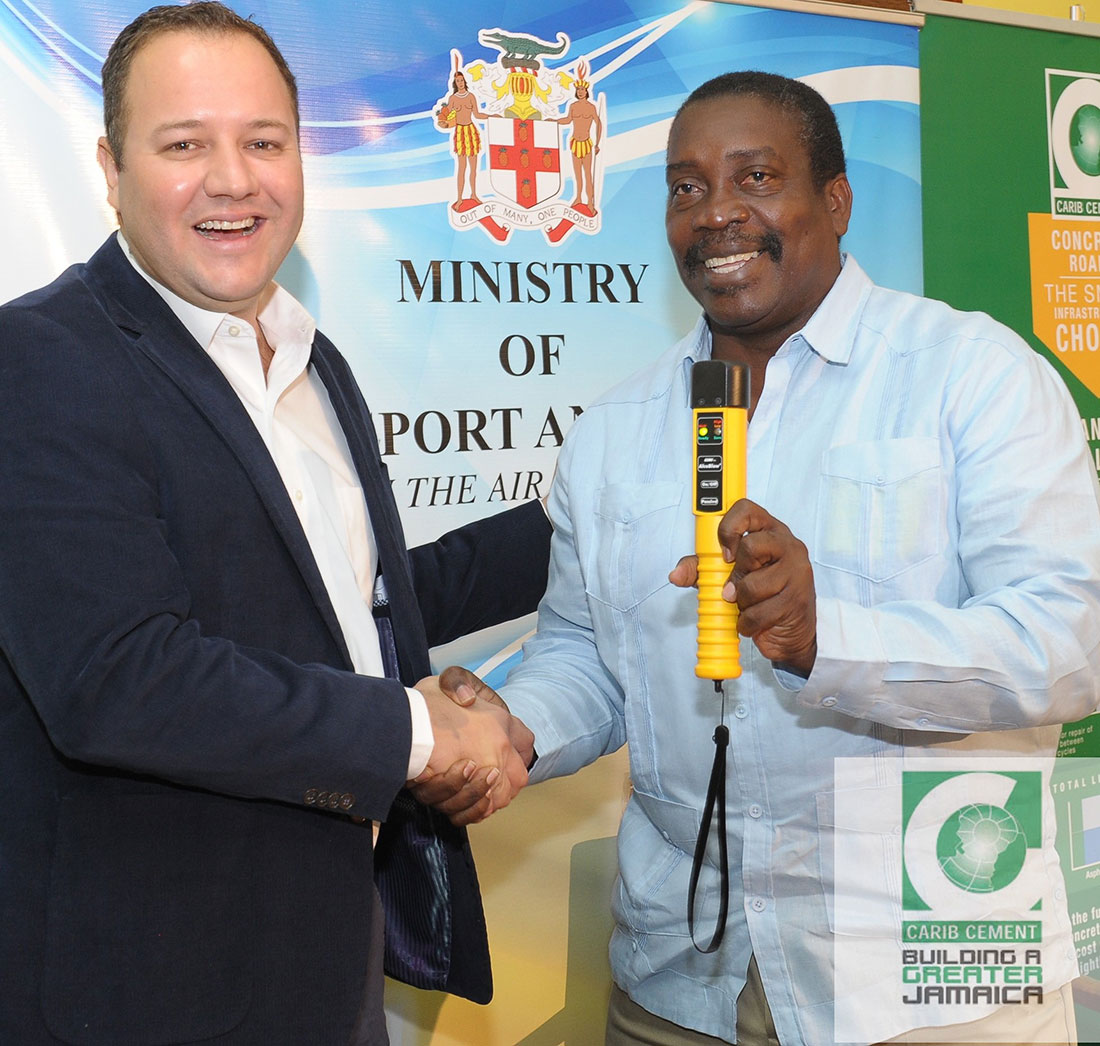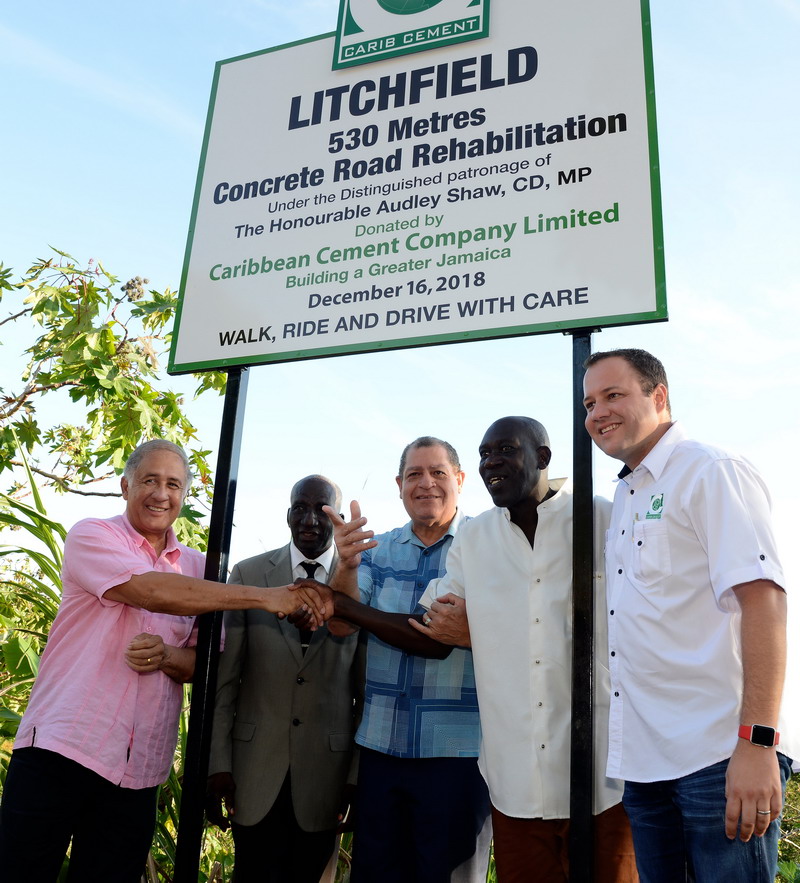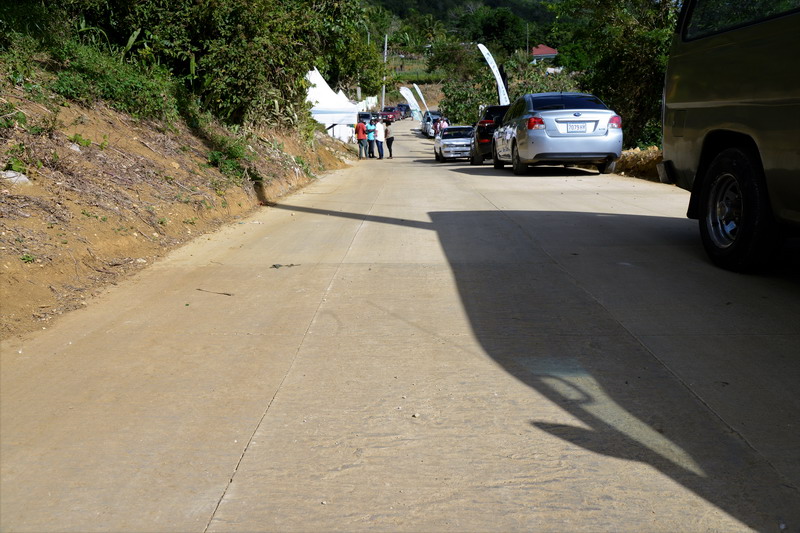 Caribbean Cement donates jogging trail to university community of Mona Heights
Caribbean Cement Company Limited has donated a jogging trail at the Mona Heights Park in St. Andrew. This was formally presented on October 27 at a ceremony during which Fayval Williams, Member of Parliament for St. Andrew Eastern and Dr. Christopher Tufton, Minister of Health participated.
Peter Donkersloot, General Manager of Carib Cement said: "We are happy to donate this jogging trail to the community and now officially hand this project over to you, to take care of it, maintain it and continue to make it a welcoming place for everyone to exercise and relax."
The concrete jogging trail is 370 metres long and cost just under J$5mn. It was completed on time, within budget and accident free.
Present at the event were Parris Lyew-Ayee Snr, Chairman of Carib Cement and Andrew Bellamy, Councilor of the Mona Division.
According to the 2011 Census of Population & Housing – Jamaica, there are 1891 households in Mona Heights.
Carib Cement has over the past three years contributed $200 million dollars in community outreach initiatives, which have positively impacted more than 200,000 men, women, boys and girls across Jamaica.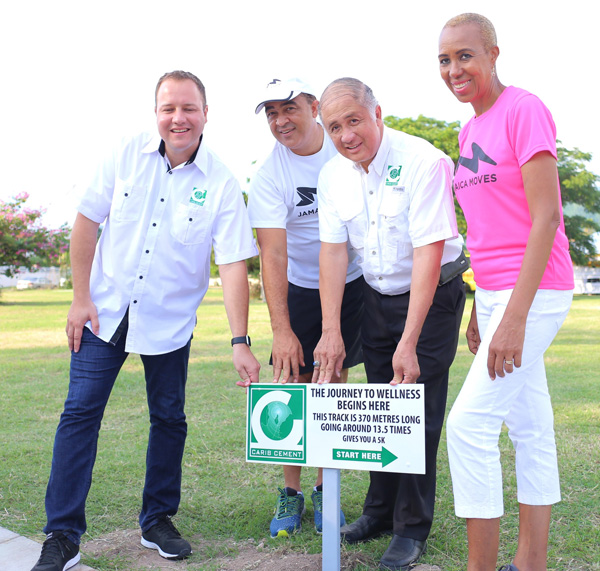 Caribbean Cement Company Ltd has donated at 370-metre jogging trail at the cost of just under J$5million to the Mona Heights, St. Andrew community. Celebrating the hand over with the placement of the starting marker are from left, Peter Donkersloot, General Manager of Carib Cement; Dr Christopher Tufton, Minister of Health; Parris Lyew-Ayee, Chairman of Carib Cement and Fayval Williams, Minister without Portfolio in the Ministry of Finance and the Public Service and Member of Parliament for St. Andrew Eastern, in which Mona Heights is located.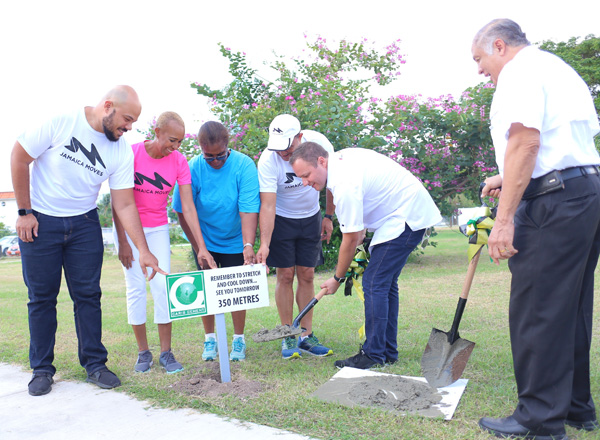 Parris Lyew-Ayee, (right) Chairman of Caribbean Cement Company Ltd helps with mixing cement to plant the final sign on the recently completed 370-metre jogging trail at the Mona Heights Park in St. Andrew on Saturday, October 27. From left are Andrew Bellamy, Councilor for the Mona Division; Fayval Williams, Minister without Portfolio in the Ministry of Finance and the Public Service and Member of Parliament for St. Andrew Eastern; Winsome Johns-Gayle, president of the Mona Heights Citizens' Association; Dr Christopher Tufton, Minister of Health; and Peter Donkersloot, General Manager of Carib Cement.
Recognizing Labour Day In A Meaningful Way.
A team of 40 persons was organized by Carib Cement to brighten up the Camperdown High School in commemoration of Labour Day. This included the painting of a wall built by Carib Cement, the planting of flowers and general maintenance of the school's grounds. This will impact more than 3000 students that attend the institution as well as their parents and the staff.
The company joined Logos Hope and the Rotary Club of Kingston and Port Royal in this remarkable effort.
It's all about Family!
Family members of Carib Cement employees were thrilled to participate in the inaugural Carib Cement and CEMEX Family Plant Tour that took place on July 8, 2017. It was a memorable day where the children were provided uniforms to replicate that of their parents which allowed them to envision their parents' daily work life and have a greater appreciation of their jobs at Carib Cement. The concept was adopted from CEMEX to expose families to our place of work.
The tour began at Cement Mill 5 and the exciting journey continued along to Kiln 5 and then the hub of the plant – Central Control Room. The group learned about the importance of safety, the cement manufacturing process and the basic operations of the plant. The children were excited as they asked many questions about the plant and the requirements to work at Carib Cement. Feedback provided by one parent was that his child was proud and excited that he had the opportunity to sit in his chair and see what he does every day.
The tour culminated with a hand printing exercise on the Carib Cement/CEMEX Family Wall which serves as another reminder to all employees that we must return home safely.