Caribbean Cement Company Limited, on Wednesday (August 3), introduced a lactation room as part of the company's thrust for greater diversity and inclusion in the workplace.
The lactation room, which is free from intrusion by other employees and the public and provides an element of comfort to the breastfeeding process, was created to enable mothers to express breast milk throughout the day while at work.
It will also enable mothers to keep up their milk supply and take home the nutrient-rich milk.
Its introduction coincides with World Breastfeeding Week, which is being observed from August 1-7 by some 120 countries and is aimed at bringing awareness to the roles people have in protecting, promoting, and supporting breastfeeding.
Managing Director of Caribbean Cement Company Limited, Yago Castro, explained that the introduction of the lactation room is among the steps being taken by the cement company to ensure a safe and welcoming workplace for people to collaborate effectively without fear and discomfort.
"We believe that once an organization accommodates various needs, everyone can thrive professionally. We all have some differences from each other, whether it be gender, age, race, religion, civil status, ethnicity, disability condition, or sexual orientation. These differences may lead to discrimination, aggression, and or conflict between employees if there isn't a culture that fosters acceptance and inclusion," he said.
"By sharing information and increasing the awareness of these differences while nurturing togetherness, we can achieve workplace diversity and inclusion, where employees feel equally involved and supported in all areas," Mr. Castro continued.
Other measures that have been undertaken by Carib Cement towards achieving workplace diversity and inclusion are the introduction of paternity leave, changes made to recruitment to ensure an unbiased process, and incorporated training focused on breaking unconscious biases and openness to differences.
It also included the celebration of diversity and inclusion days such as International Women's Day, Mother's Day, and Father's Day.
A raft of other measures is slated to come into effect shortly.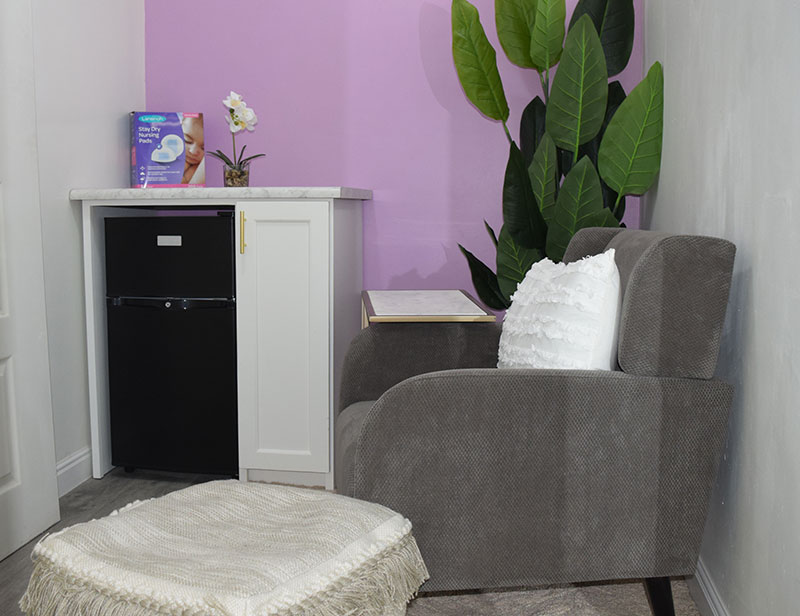 The newly completed lactation room, which will enable mothers to express breast milk while at work. The introduction of the room on August 3 is a part of Caribbean Cement Company's push for workplace diversity and inclusion.