Caribbean Cement Company Limited officially opened a 600-metre stretch of concrete road solution in the community of Denham Farms, Manchester on Thursday (June 10).
Completed at a cost of $13 million, the newly constructed roadway will assist more than 50 farmers from the community to transport produce such as sweet and hot peppers, yams, tomatoes, and Irish potatoes more quickly to the market.
Addressing the road opening, Member of Parliament for North East, Manchester, Hon. Audley Shaw in whose constituency the road is located, lauded the cement company led by its Managing Director, Yago Castro, for the road completion.
"I want to thank the cement company for their initiative, enterprise and contribution in putting this road together," he said.
Mr. Shaw, who is also Minister of Industry, Investment and Commerce, indicated that the residents of the farming community were appreciative of the work put in by the company.
Taxi operator, Peter McKenzie who plies the Denham Farm route and surrounding communities, also expressed gratitude to Carib Cement Company Limited and Mr. Shaw for the new road.
"I am very happy for it. I have always been talking to Mr. Shaw about this piece of road and we finally have it," he said.
Farmer, Simone Smith also hailed Carib Cement for the work done to improve the road network in the community.
"I am happy to see the road improvement because it will help out the farmers a lot. The goods will be transported with much ease to the market. Carib Cement did a really good job and we commend them for that," she said.
Meanwhile, in his remarks, Mr. Castro continued the promotion of the concrete road solution because of its safety, longevity, and ability to withstand the vagaries of natural disasters such as hurricanes.
"Jamaica is a country that is exposed to harsh weather such as heavy rains and hurricanes. Having this kind of pavement is the right solution for the long-term. We are trying to make our humble contributions as a company step-by-step," he said.
He noted that over 40 people from the community were employed on the project and all materials sourced were from hardware stores within the community.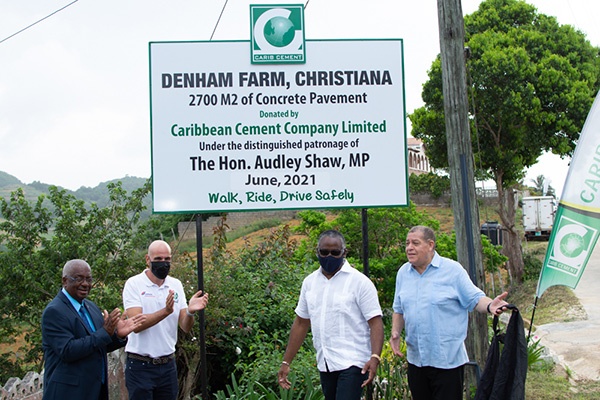 Managing Director of Caribbean Cement Company Limited, Yago Castro (second left), is joined by Member of Parliament for Manchester North East, Hon. Audley Shaw (right), at the official opening of a concrete road constructed by the cement company in Denham Farms in the parish on June 10. Others from left are Councillor of the Christiana Division, Desmond Harrison and Custos of Manchester, Garfield Green.