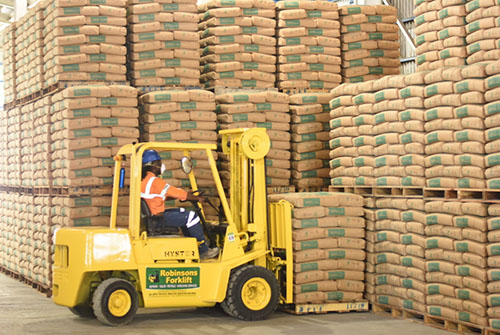 [January 7, 2020; Kingston] Caribbean Cement Company Limited reached a new historic record in 2020 by manufacturing more than 940,000 metric tonnes of cement in response to market demand.
"The market responded opposite to what might have been expected given the pandemic. Instead of slowing down, construction grew, and we kept in step with our customers by meeting their demand consistently. We will continue to ramp up production as the market grows," said Yago Castro, General Manager of Caribbean Cement Limited.
Mr Castro attributes this performance to capital investment, government policies, management of the pandemic and the expertise of the employees.
"The Government of Jamaica assessed the situation well and allowed critical sectors to continue operating once certain protocols were followed. Prioritising health, while keeping economic goals in mind, have mitigated against the negative impact on our sector. Moreover, we saw tremendous performance from our team, who remained focused and I am really proud of their commitment," Mr Castro said.
Additionally, this record affirms the company's commitment to delivering value to its customers, shareholders by meeting targets laid out in quarterly statements and at the Annual General Meetings.
Throughout the year, safety remained a priority and the implementation of 52 new safety protocols to mitigate against the transmission of COVID-19 were strictly reinforced. Information on behaviours that save lives was also shared continually with employees, contractors, truck drivers, customers and all who visit the plant. As a result, the company has not experienced loss of productive time necessitated by closures due to the contraction of COVID-19.
In terms of capital investment, the company has invested more than JMD22Bn in new equipment, upgrades, and maintenance between 2015 and 2019. As a result, the Rockfort based plant has become more modern, efficient, and safe.
Heavy rainfalls along with inconsistency in power supply, hampered the mining process in Q3 resulting in some gaps in production during that period. Without drastic interference from weather conditions, and if the market requires, the company is able to exceed one million metric tonnes.
The Statistical Institute of Jamaica reported recently that the construction sector grew by seven per cent in Q3 of 2020 after declines of 14.5 per cent in Q2.